Sedimentology, Sequence Stratigraphy and Reservoir Quality of Cretaceous Petroleum Systems of the Arabian Plate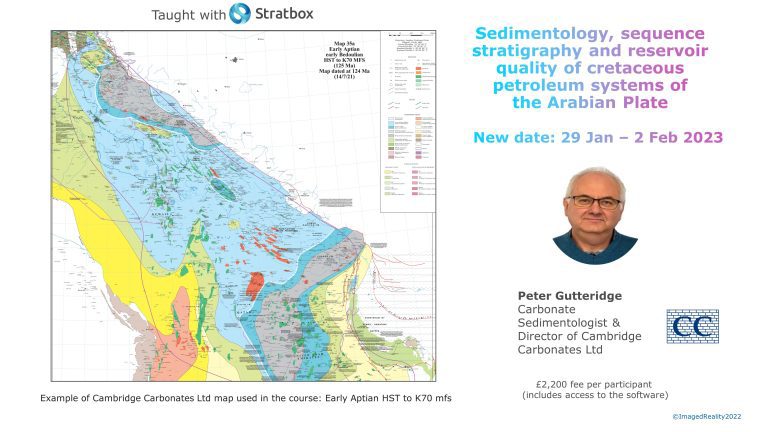 Format and Duration:
Virtual Instructor-led Course – 5 half-day sessions 
(12:00-15:30 (London / GMT)
Dates:
29th Jan – 2nd Feb 2022 (registration closing date: 20th Jan)
Pricing:
2,200 GBP
Course Overview
This virtual workshop on Cretaceous petroleum systems is based on the evolving palaeogeography of the Arabian Plate. Selected palaeogeographical maps at a 3rd order systems tract level show how the depositional systems, sequence stratigraphic architecture, source, seal and reservoirs are configured in each petroleum system. The controls on reservoir quality in each mega-sequence are also discussed.
The workshop also includes descriptions of work flows, including the use of facies analysis, core logging and petrographic techniques integrated with other sub-surface techniques are required to characterise these petroleum systems at a regional to reservoir scale. While the workshop focusses on Cretaceous carbonate systems, case histories from outside the area may be introduced to illustrate principles of sequence stratigraphy, carbonate diagenesis, pore systems and reservoir types will be introduced.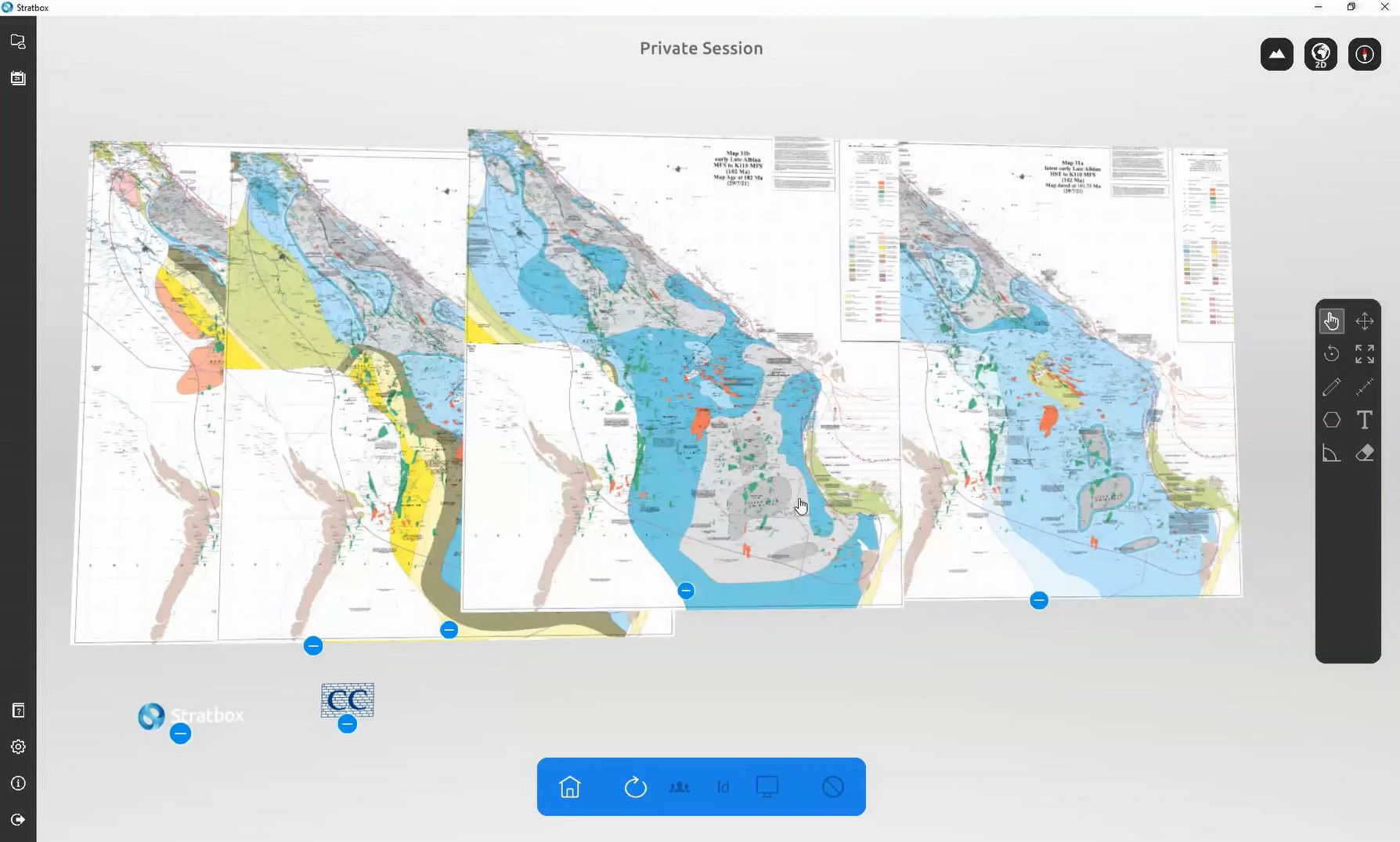 Learning Outcomes
A detailed understanding of sequence stratigraphic controls of source-reservoir-seal configurations in Cretaceous petroleum systems.

 

Sequence stratigraphic and palaeogeographical control on reservoir development in carbonate and mixed clastic-carbonate systems.

 

Understanding of the sequence stratigraphic and palaeogeographical control of pore systems in carbonate reservoirs.

 
Training Method
Lectures and practicals

 
Case histories

 
Use of Stratbox software

 
The workshop will be delivered by a combination of power point presentations supported by case histories and exercises carried out in Stratbox using selected Cambridge Carbonates Ltd palaeogeographical maps of the Arabian Plate. 
Key maps will be selected to illustrate regional features of the petroleum systems with links to reservoir and exploration case histories.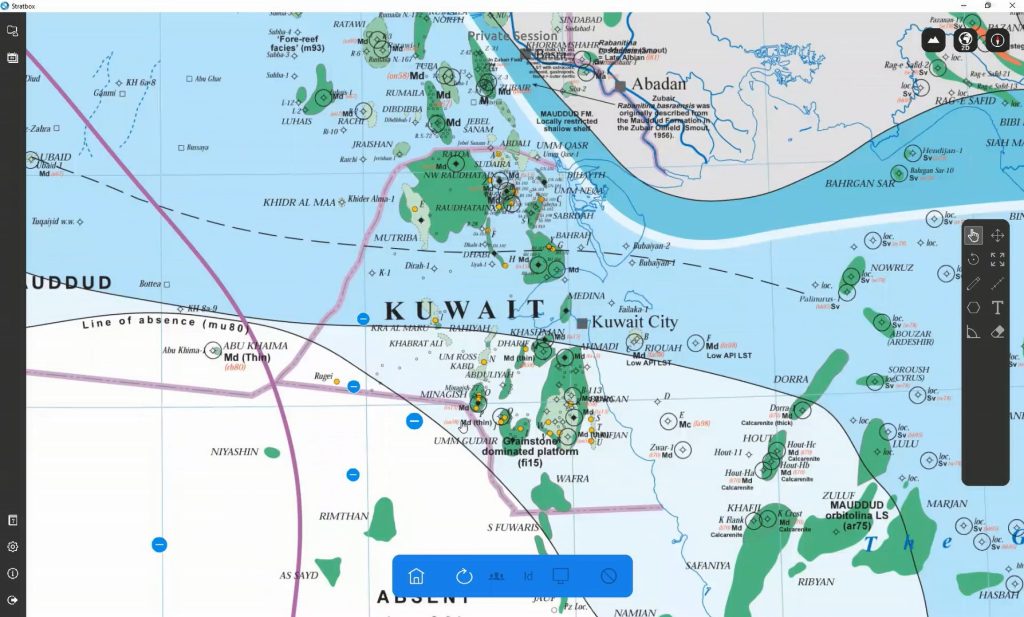 Course Program  
Day 1: Overview of the Cretaceous of the Arabian Plate and discussion of AP8 I mega-sequence. 
Session 1: Cretaceous sequence stratigraphy, and mega-tectonic and sedimentary setting. Large-scale stratigraphic controls on source, reservoir seal configuration. Thamama, Wasia, Aruma mega-sequences. Introduction to late Jurassic to Hauterivian mega-sequence, AP8 I: framework for Cretaceous sedimentation.

 

Session 2 Introduction to AP8 I mega-sequence, stratigraphic architecture and sub-division. Minagish and Habshan carbonate systems, reservoir quality and controls.

 
Day 2: Early Cretaceous mega-sequences AP8 I and AP8 II; carbonate and mixed carbonate-clastic systems.  
Session 1: Sequence stratigraphy and facies types in mixed clastic-carbonate systems; Ratawi Formation Kuwait. AP8 II mega-sequence; Shuaiba carbonate system distribution and controls on reservoir quality.

 

Session 2: Sedimentology, stratigraphy and source potential of intrashelf basins; Bab Basin. Introduction to AP8 III mega-sequence, stratigraphic architecture and sub-division. Lehkwair and Kharaib carbonate depositional system.

 
Day 3: Middle Cretaceous mega-sequences AP8 III and IV. 
Session 1 – Maududd case history from Burgan. Workflow: Core logging and microfacies analysis. Introduction to AP8 IV mega-sequence, stratigraphic architecture and sub-division. Natih carbonate system in SE Gulf.

 

Session 2 – Mishrif, carbonate systems and associated intrashelf basins.

 
Day 4: Late Cretaceous mega-sequences AP9 V and VI. 
Session 1: Introduction to AP9 V mega-sequence, stratigraphic architecture and sub-division. Khasib, Ilam carbonate systems. Evolution of Oman margin. 

 

Session 2: Introduction to AP9 VI mega-sequence, stratigraphic architecture and sub-division. Workflow: production of palaeogeographical maps.

 
Day 5: Late Cretaceous mega-sequences AP9 VI and course wrap-up. 
Session 1: Hartha, Massive and Shiranish; karst and low stand carbonate reservoirs. Workflow: dual porosity systems in carbonate reservoirs.

 

Session 2: Course summary.

 
Who Should Attend
The workshop is aimed at geoscientists involved in evaluation of acreage for licencing rounds, those concerned with the characterisation and development of carbonate reservoirs and involved in the evaluation of CCS targets. 
Instructors
Cambridge Carbonates has 75+ man years of experience of exploration, reservoir characterisation, stratigraphic and palaeogeographical work based on sub-surface, outcrop and published data from throughout the Arabian Plate as well extensive experience on carbonate evaluation and reservoir characterisation projects in carbonate systems globally. In addition, Cambridge Carbonates staff are co-authors of two industry standard references that defined the Phanærozoic sequence stratigraphic framework of the Arabian Plate (Sharland et al. 2001) and described the Petroleum Geology of Iraq (Aqrawi et al. 2010).